Que ? googlePad ? R V in Pad Wars ?
AndIThoughT© …….. With Apple's iPad already in the market and sold in signif
icant quantities worldwide,  Google, HP, Microsoft, Sony and the others have been gearing up to introduce their equivalent products.
Steve Ballmer of Microsoft, at 2010 CES, showed the HP's Slate during his keynote speech. Earlier in the year, around iPad introduction time, HP's Slate received some press time again. Slate's features were mentioned and compared with other pad products ,  particularly Apple's iPad.  It has been introduced to be a Windows7 compatible product.
Verizon and others have been working with Google to offer a competing product in the pad market place.  Kindle and iPad already being in AT&T's column, Verizon will have some quick catching up to do. They have been collaborating with nVidea developing a Wireless Fu
ll HD Internet Tablet . The hardware has been waiting  formal blessings from Google.
Sony has previously announced that they will actively participate in this product segment. The Dash is their personal internet viewer and the Reader Touch Edition   their  eBook Reader.
Another pad product was introduced by Plastic Logic unveiling QUEâ"¢ proReader at Consumer Electronics Show, Las Vegas, Nevada early this year.  Que ( pronounced "Q" not "K" ) is an 8.5″x11″ form factor display. The display technology is a patented plastic electronics technology, guided into manufacturing by Plastic Logic. Plastic Logic is a spin off from Cavendish Labs, Cambridge, United Kingdom where this innovative flexible ePaper display  technology was originally developed. This new technology offers innovative flexible plastic displays compared to the others which are based on LED on glass.
Philips is no stranger in the ePaper technology. Liquavista a spin off from Philips has been developing color ePaper and have produced sunlight readable color ePaper solutions. According to them their products, using principle of Electrowetting, produces 4x better optical performance.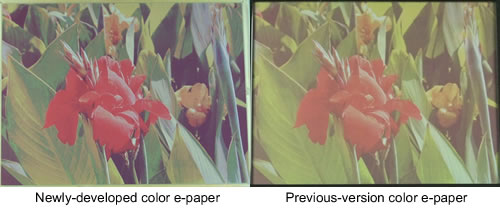 Courtesy, Fujitsu Laboratories Ltd. Fujitsu Frontech Limited
Fujitsu Laboratories Ltd and Fujitsu Frontech Ltd's last week's announcement about the ePaper color enhancement break through is an extremely promising event.  The contrast improvements of 3 times the previously available and rewrite time to half is a very significant achievement. There are great expectations for further improvements in ePaper technology for  faster write speeds and further color  brightness and contrast enhancements.
AndIWondeR© …….. if this announcement by Fujitsu Lab Ltd and Fujitsu Frontech Ltd changes the whole ball game in the Pad space……!!